C.V.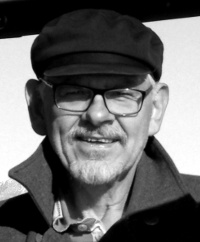 Artistic Background
Initially it was painting and drawing, later – still in adolescent years, the first ornamental and coloured design of interiors;
Discovering theatre as a chance to combine art, literature and music;
Due to the work with actors the love for portrait painting was born;
On various journeys photographic works and objects of `Earth Works´ developed;
Working with texts resulted in performances;
Being a father brought inspiration to develop and accomplish numerous art projects with children and youngsters.
All this exists parallel and is continuously in progress.
The common denominator of all these varying, aesthetic projections is the deep examination of the phenomenon of perception.
Biography
Born 1958 in Offenbach/ Main, raised in Kelkheim at the slopes of the Taunus mountains.
Abitur (Diploma of German secondary school) 1977 in Koenigstein.
Thereafter the escape from bourgeouis home restriction into the adventurous narrowness on ships of the German Navy. Qualification as naval officer, around the world in a vessel.
From 1980–1982 apprenticeship as a painter and lacquerer in Frankfurt/ Main with participation in numerous reconstructions and restorations in the Rhein-Main area and from Corvey to Ludwigsburg.
Parallel evening attendance at the `Staedel Academy of Arts´.
1982–1987 studies at the Art Academy in Duesseldorf, first exhibitions and stage settings. Numerous play productions with the `Komykom-Theater´.
1987 the move to Berlin. Ever since active as a freelance artist. Works as stage designer, fair designer, interior designer, narrator, performer and photographer and always as painter.
Married and happy father of one child.